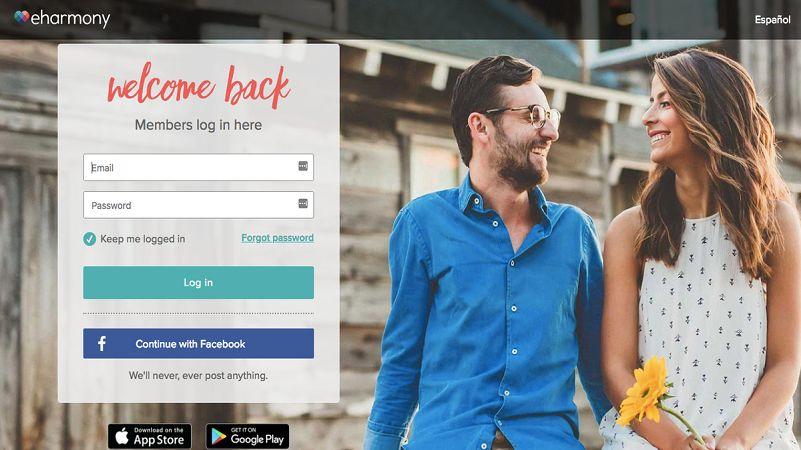 Los Angeles-based eharmony (www.eharmony.com) launched in the United States in 2000 with its patented Compatibility Matching System® which allows eharmony members to be matched with compatible persons with whom they are likely to enjoy a long-term relationship. Millions of people of all ages, ethnicities, national origins, and religious and political beliefs have used eharmony's Compatibility Matching System to find compatible long-term relationships.
User Experience on eHarmony.com
The user experience on eHarmony is 100% personalized for each individual user, but also very restricted. This isn't a site to throw out "Hi, how are you" or other generic messages and waits for responses. Instead, users can only see those people the site has identified as potentially good matches for them (so that means there are no browsing or searching features available). Members discover others based on their intentionally limited number of matches the site shows them each day.
The more one uses the site. The more matches, and encounters that are possible. But due to the nature of only seeing a hand-picked yet small percentage of the total site membership each day. The online dating process on eHarmony is slower and more calculated than that on other online dating sites. This, of course, could be a deterrent to some. But with the tried and true success, eHarmony has in facilitating lasting romances. And marriages, in addition to numerous awards the site has received over the years. It's reasonable to consider dropping your need for instant gratification or mass attention in order to achieve real love.
Frequently Asked Questions
Does eHarmony really work?
Yes, I would say eHarmony does work. It is one of the largest and most successful dating sites. It primarily targets those seeking long-term partners or meaningful connections.
Why we join eHarmony?
Eharmony is a very famous website on the internet. Many people share there positive experience about this website. eharmony is dedicated to finding loving, long-lasting relationships for singles.
Is eHarmony is free?
Joining is free on eHarmony you can create your profile and watch other profiles. If you want to use eHarmony to start chatting with people and finding that special someone, you are going to have to pay for an upgraded account.
Is eHarmony worth it?
Well, I think eharmony is a bit different from other dating sites. Success rates are good for finding your partners in eharmony.
How safe is eHarmony?
According to eHarmony privacy policy When you register for an account or subscribe to any of our Services, we collect a variety of information about you, including your contact information such as your name, email address, contact number, mailing address, date of birth, dating preferences, etc. We store information in a combination of electronic storage facilities, paper-based files, and other records. While we cannot guarantee your personal information is completely secure at all times, we have administrative, organizational, technical, and physical security measures in place to help protect against the loss, misuse and alteration of the information collected and processed.
What kind of cookies does eHarmony use?
We use certain cookies to make sure that our website and our Service is easy, secure and safe to use.
How do I delete my account on eHarmony?
If your account does not have a subscription, you can delete your profile within your account by:
Clicking on the arrow next to your photo at the top of the screen to open the dropdown menu
Clicking the Data & settings link
Under the Profile Status section, click the link within To permanently delete your profile, click here On the following page you can confirm the permanent deletion of your profile
How success rate for eharmony site?
Success rate for eHarmony, less than 40%. eHarmony may have a good reputation on the surface, but we took the liberty of checking whether it is a dating site worthy of your time. People who stay on this site have most likely upgraded their account. This can be pretty costly so, there is a huge possibility that you'll match with someone who is already stable.
Should I try the eHarmony?
If you are looking for a serious relationship, then this site is probably worth a try. Most of its members are in the age of settling down and building a family. eHarmony is conjunction with the basic interface it might wear it has the web version. It is clean and easy to navigate and does not have a lot of promotions to deal with. The app allows easy scrolling through your match list and favorites' list.
How can I contact eHarmony?
There are many options to contact eHarmony, goto about and then contact. There are Help Center, Careers, Press Inquiries, etc. You can check their Help Page if you have any issue and questions regarding your account.
Phone Number: +1-626-628-3467
Address: 10900 WILSHIRE BLVD,
Los Angeles California, 90024, United States
Reviews
Sad to see such attitude
Sad to see such attitude, but their photos, questions and attitudes are very political oriented. If you have different political belief, you will have difficult and hard to deal with.
Stay away from this site.
Stay away from this site. It's full of fake accounts and all messages you receive and all chats are with bots. Bots, bots and more bots! Can't get any worse!
This app is dangerous
This app is dangerous as hell lately. The male side is extremely predatory and there's more than enough stories of people being sexually abused and their abusers still being kept on this site. The women side is full of pathetic little cretins begging for followers or onlyfans subs. It is, as a literal fact, 94% people posting their links now. They lie and steal your money too, they'll drop dozens of fake likes and when you try the paid option they vanish. Imagine an app owned by a women trying to be different and safer and all this capitalist tramp cares about is money. Doesn't kick rapists, fake profiles, pedophile bait, hundreds of underage girls, hundreds of women lying about their age. Absolutely disgusting. Use reddit to get OF followers and if you're desperate for instagram followers?get a life or leave because it's pathetic how desperate some of these people are
I just canceled my subscription
I just canceled my subscription because I wrote that the men there would not even reply to my messages once I told them I'm overweight and then all it was deleted by whom ever is unchanged of the site which it leads me to believe that is a man anyhow I hate the site it's does not have good customer service actually is nonexistent!, the members here have been here for years and it's not about them anyways, it's about the site itself I would not recommend it for anything the worst site in the dating industry period!!!!!!
Not interested in this site
Men I've met online only want one thing. It's money or sex. It's sad, but I'm not interested in this site anymore. Thank you.
Keep clear
Keep clear. I feel fake profiles. Fake information and statistics. Doesn't appear to be monitored in anyway. Other site much better in my opinion or use one of the free less fussy sites…
Im very happy
Im very happy with the one I have met we have become a couple now I thought things would not work and and I would not meet anyone until I met arech Im very thankful I met him
It took a long time
It took a long time to meet someone. Three yrs. They live in another city. Don't know if it will work out or not but he is a nice man and he loves me.
Poor matches
All the service they provide is throwing poor matches at you with no regard to your preferences or search criteria. But you can be assured that they will charge you more than you expect or authorize.
This site is an absolute disgrace
EVERY message I have received is from a fake profile. This site is an absolute disgrace and should be fined and shut down.. Don't waste your time or your money.
Fake accounts
Fake accounts, bots and scammer who tried to have you follow their link. This website is crooks.
Was a great experience
Was a great experience and I found a woman who I was compatible with and really connected with…. The platform was a good exercise so I thank for that.
I want to thank this site
I want to thank this site. We are really happy and starting a family. I recommend the site you will find the right one for you.
Thank you
There is someone for everyone. She is out there I just waited for the best to get together. You will know when you meet her. We have a lot in common, we finish each others sentences. So They are out there. I have been looking for awhile. Thank you
Amazing woman
A friend told me about this site and this is where I met this amazing woman. We are a perfect fit and been together for the last 5 months. Love every day spending with her.
I wish everyone all the best
I was looking for friendship but maybe something more will grow in time. I wanted to meet a man and I had an overwhelming response. There are so many lovely men out there and I wish everyone all the best.
I greatly appreciate
I greatly appreciate the help and the excellent customer service skills. The team is a asset to the company with their great personality.
I met a girl
I met a girl from my city on this app. We talked for like 2-3 months before we actually start meeting. When I saw her for the first time I was simply stunned. She was pretty, funny and all around amazing person. We kept doing stuff together 3-4 times a week for the next 6 months. I even met her.
I rate this website very highly
I rate this website very highly. There are so many ways to talk to women here. You don't just "swipe" left and right or exchange a couple of texts. You can send a lengthy letter to tell everything about yourself. You can send photos and profiles are very informative. I love this website.
It's easy to use
They offers several services one is Live Chat. It's popular because it allows users to chat with a lady in real-time. It's easy to use as the Live Chat button can easily be located on any profile.
Amazing website!
Amazing website! I'm very thankful to for meeting my stunning girlfriend! Less than year ago I didn't trust any kind of such online sites but now I see that it works.
I met the girl
I met the girl I have been looking for my whole life on this site. We met 10 weeks ago and are getting married and planning on starting a family ASAP.
Horrible dating service
Horrible dating service, horrible customer service, would never use again.
Total rip off
Total rip off. Does anyone know if this scamming dating site is owned by an overseas company that, if so who. Australian government needs to regulate these crooks. Unsubscribing is very difficult. Beware!!!
Dont waste your money
Dont waste your money. Some messages I received were not real.
Fake profiles everywhere
Fake profiles everywhere, people supposedly looking at you and sending you smiles/hearts but that is just the system. What an absolute waste of time and money.
Horrible experience!
If you do not pay, they will delete your account to punish you. Horrible experience!
Eharmony is a scam
Eharmony is a scam it's not free as it claims, you have to pay to use half of the services and it's full of webcam girls, hookers, escorts, and scam artists. I'd never recommend this sight to anyone.
Eharmony is Total scammers!
Total scammers! I disputed charges with my bank last time this site did this to me and low and behold they have done it again! I have never even spoken much less dated anyone on this site, I NEVER use it but I was pretty much told…well sorry you are outside the refund period???? UMMM…how is that possible since I didn't sign up and disputed the charges last time? FURIOUS!