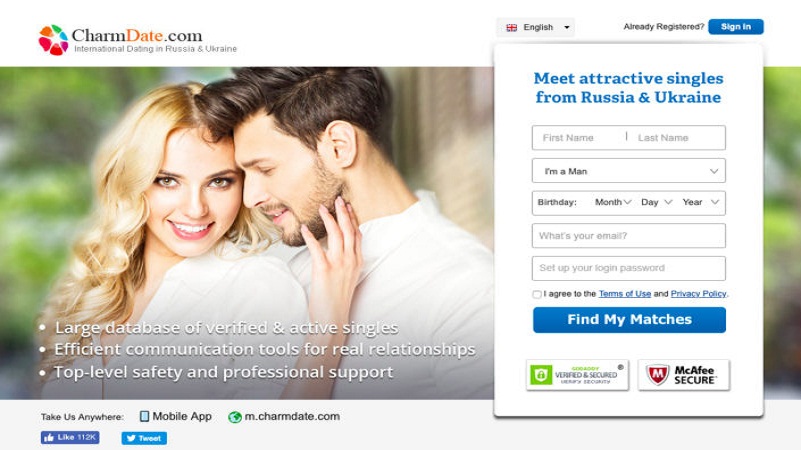 We want to start off our CharmDate.com review with a little visualization. Imagine you are going on a blind date with a woman. You sit down at the restaurant table, waiting for her to arrive. When she does arrive, you are pleasantly surprised. She's got a beautiful smile and a smoking' hot body. She wears a clever outfit and walks like she owns the room. Wow, this is going to be great!
She sits down across from you at the table and before you can ever say hello she says, "I just want to say right off the bat that I am not crazy. I have never cheated on any of my boyfriend's. Seriously, I haven't stolen my ex-boyfriend's car and driven it into the ocean. I would never, ever do any of these things. Really."
Then you ask the waiter for the check and get out of there right away. Because you know, like I do, that immediate, emphatic denials are always a red flag.
Finding a good dating app has always been challenging but it's more important than ever. The majority of new relationships are starting online right now thanks to social distancing so you just can't avoid it. You need to find at least one option that works for you in order to get the results you deserve.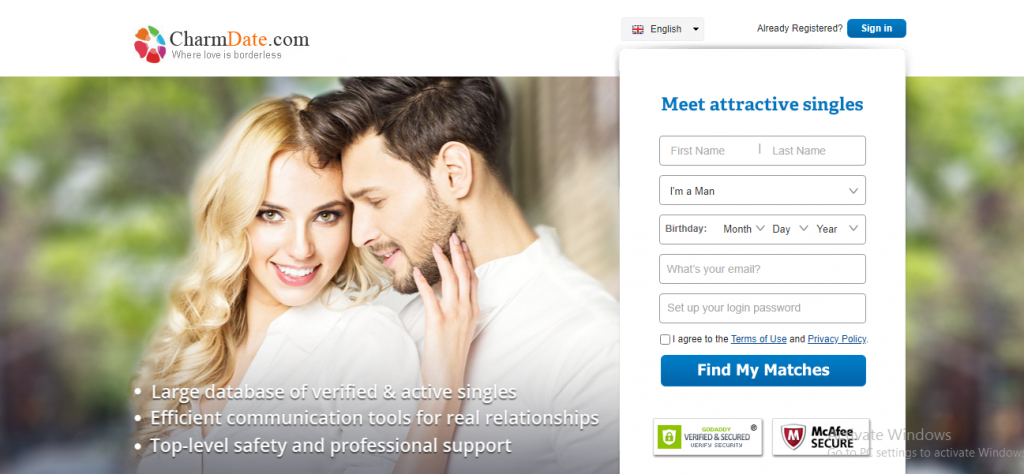 Our Full CharmDate.com Review
It is red flags like these that we always look for when testing out new sites to include in our rankings for the best hookup sites to meet single women. This is more or less what happened to me when I was doing research for this CharmDate review. I navigated to the website, which seemed pretty nice on the surface. The blue and white color scheme and the photo of a happy couple looked like a sort of high-end public service announcement. I can trust this, I thought.
But that notion quickly vanished when I read the three lines of bolded text on their front page:
"Authentic profiles of quality singles from around the world"
"Optimum anti-scam protection and support from professional team"
"No language or cultural barriers with efficient services"
If you have to stress the fact that these profiles are 'authentic' and that you have 'anti-scam' protection right up front, then I am going to go ahead and assume that there has been a problem with these things in the past. And what, exactly, are 'efficient services'?
The site was starting to seem less charming by the minute, more like a Charm Date scam.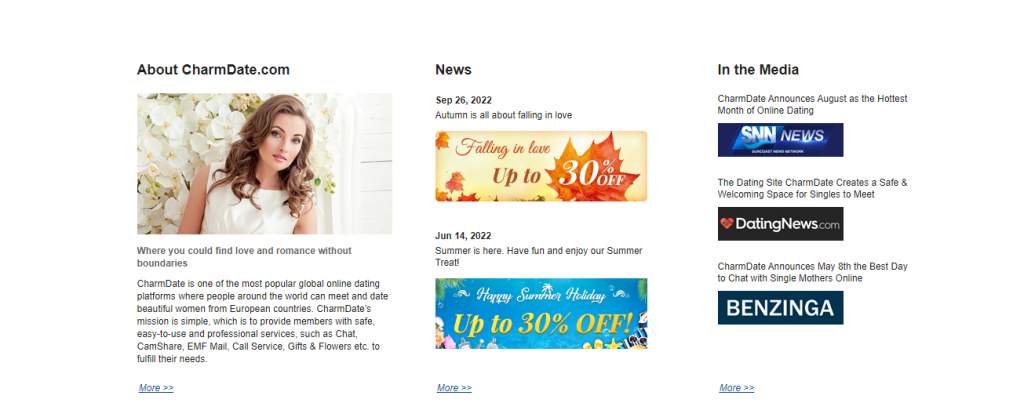 Insufficient Credits….CharmDate.com
I remember when I was a kid I used to go to an arcade that had 'tokens'. You had to exchange your quarters or dollars for tokens. One quarter was worth one token, but of course it never felt that way. Tokens felt like monopoly money, fake. It's a lot easier to spend fake money than it is to spend real money.
This is why Charm Date puts their prices in the form of 'credits' rather than dollars. It's only .5 credits for every minute of chatting! Well, .5 credits is 1 dollar, but it's easy to forget that. In fact, the term 'credits' seem so innocuous that you could feel like you aren't paying anything at all. You could feel like this is just an 'authentic' interaction with a real woman, no money involved.
I wouldn't call it fraud, but it's not exactly honest, either.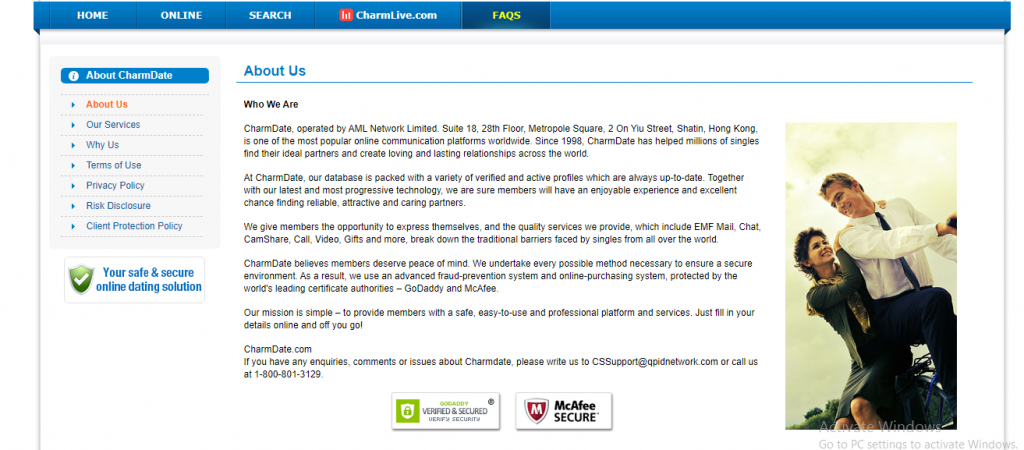 From Russia with Love was a Common Theme in our Charm Date review
When you are logged onto this site there are constant pop ups in the corner of the browser from women who want to talk. The pop ups stack on top of one another, like small puppies jumping over one another, vying for your affection. It can be tempting to click on them just to make them stop.
The women on Charm Date all have Russian sounding names. In fact, the website is clear that it's all about helping "men from all over the world and beautiful women from Russia and Ukraine connect for romance, love and wonderful relationships."
There are no user counts listed on the site, but there seem to be hundreds of profiles at least. Many of them have generic biographies and interests. However, most of the profiles do have multiple pictures, suggesting that the women are real, even if the biography information is created by a computer program.

Maybe too Real? – CharmDate.com
On the Charmdate Facebook page there are pictures of more women and enticing little advertisements. I even found one video interview with a woman, further confirming that there are at least some legitimate humans behind the profiles. But just because a woman is real, that doesn't mean you want to date her.
In the interview, the woman talks about wanting to go to Mayan ruins. She is clearly reading from a script. Then the video cuts to a strange montage of photos of this woman with an abhorrent cover of The Police's "Every Step You Take" playing in the background. In case you haven't listened to that song recently, let me remind you that it is like the national anthem of stalkers.
"Every step you take, every move you make, every breath you take, I'll be watching you" from behind my computer screen three thousand miles away!
RELATED ARTICLE: Eharmony.com
Frequently Asked Questions
How to edit profile details on Charmdate.Com?
Go to the profile section and where you can edit your details. But you cannot change your name, date of birth, residence country, and current relationship status. If you want to change these you can contact with Charmdate support team.
What about online security on Charmdate.Com?
Charmdate takes online security and privacy very seriously. The most innovative and cutting-edge technology to ensure registration and usage is under a high level of security and protection. Online data processing and payment systems are protected by GoDaddy and McAfee, leading authorities in online security. The processing services used by the site is verified by Visa and MasterCard SecureCode.
How to search members on Charmdate?
To search for a member in CharmDate, you can use the options listed below:
Quick Search
Advanced Search
Member ID
New Members - click on the Newest Members link in the photo gallery section to view members who have recently joined the site.
Members Online Now
How much does the services in CharmDate cost?
These are the list of pay-to-use services:
EMF Mail - 1 credit each read and send
Live Chat - 0.5 credits per five minutes (for text-only with one-way video chat). Emojis, stickers, and photos cost additional credits.
CamShare - 0.6 credits per minute
Call Service - 1 credit per minute
Gifts and Flowers - prices are listed on the site.
What is Call me to feature in Charmdate?
With this feature, you can authorize your contacts to call you. It's free to make an authorization but for the call itself, you will have to pay for it. Your contact can then call you during your specified time.
What is Special Features in Charmdate?
CharmDate has a lot of innovative ways to let you communicate with people you like.
Admirer Mail
Live Chat
CamShare
Call Service
Gifts and Flowers
Virtual Gifts
What payment methods are accepted on CharmDate?
To purchase credits, you can use credit or debit cards including Visa, MasterCard, American Express, and Discover Cards. All credit card information that has been submitted on the site is encrypted and highly secured.
How do I know the members on CharmDate are real people?
All the lady profiles are verified. That means they have submitted a copy of their personal identification document with their photo.
Is CharmDate expensive?
In comparison to other providers, CharmDate is upper-moderate.
How do I delete my account on CharmDate?
Like other online dating sites, it is difficult to remove the account. To delete your account on CharmDate firstly you need to remove your images, profile details, etc. And then send a request to the Charmdate support team to delete your account.
Phone Number : +1 800-931-5079
Address: 71-75 Shelton Street,
London Asia, WC2H, GB
Reviews
NEVER subscribe to this site
NEVER subscribe to this site, you will be inundated with chat requests from beautiful women whose only purpose is to string you on requiring you to continually purchase coins to respond. Over 10 emails to customer support have gotten 0 responses. Total scammers
The biggest a scam dating site
The biggest a scam dating site. Don't sign up you will waste your money
This site has no security
This site has no security, there are so many fake profiles and scammers. I personally was scammed 4 times on this site. When they are going to Europe for business and need money, RED FLAGS. I've never had so many issues with hacking my profile, trying to get my credit card number. But the scariest is when you are stalked, police have to be called and Our Time does nothing because it's against their policy. Never, ever ever again!!!!
Terrible Company
Terrible Company. Quick to take your money but provide inadequate Customer Service. Take your business elsewhere, this site has false advertising and ignorance in all aspects. Beware! Try other reputable sites! Avoid!
It wasn't a complete waste of money
It is basically an email service where you can email with other members – of which there don't seem to be many of. Paying members can email back and forth. Non paying members are able to send "smiles" so it is pretty much like third grade. You get a lot of "smiles" but what's the point if you can't carry on a conversation? It wasn't a complete waste of money but it's pretty damn close to it..
Why bother
Why bother. Site uses outdated photos and profiles! To date not one single response to smiles or messages. The matches must be deceased!
Biggest fraud
Run as fast as you can as they will take your use your credit card 10 times more once you give them your card #. Biggest fraud !!!!!!!
Stay well away them.
Let this be a warning to others. This site will not remind you when the renewal is coming up and will continue to charge you card the full fee! Trying to navigate the site to cancel your subscription or stop the auto renewal is almost impossible (broken pages everywhere) and finding the customer care contact form is pointless as they don't even read your email and just send cloned responses. Even after informing them you wish to cancel they still take your money, the only way to stop them is to cancel your card and even if you do this they send you emails stating OUTSTANDING payment is due. Their website seems to be designed to make it impossible for people to get out of once they're in. Stay well away them.
This platform is very disappointing
This platform is very disappointing. Premium membership is a snare for people trying to date online. Frequently receive false likes from all sorts of people. The Android mobile app is buggy and unrefined. The website isn't much better. Professional robbery.
I am just so disappointed
I am just so disappointed in their unprofessionalism.
Horrendous account
Horrendous account 1lst 1 I have paid for, no responses on the 1s you match with either web bate or a site that doesn't know how to behave in a professional manner!!!!
It does not do serious at all!
If I could give this dating website a zero I would! Raving reviews on this site but I'm sorry there is nothing to rave here. They don't even match people to your likes and interests. II had to deactivate my account and cancel my subscription, which is still active and will only expire in Jan 2022. Please go elsewhere if you are looking for something serious because it does not do serious at all!
Not a safe place
This dating site is not a safe place to find a partner, date, or anyone else.
Useless website!
Signed up yesterday. Literally, seconds after I signed up, it logged me off. When I tried to log back in, it said my account has been blocked by the admin. Why? I haven't done anything yet, but answered a few questions an uploaded one of my photos. Trying to reach them by phone yesterday and today have both been unsuccessful. Useless website!
It was ok
It was ok most of the guys are fake. Not what they say they are but thatbisbwirh any dating site. Metbsome men thatvwrre real over this dating on line crap
Met someone I like
Well I did go on 4 dates and met someone I like and now the process is too much for me to afford. And I may be moving across the country in 3 months anyway.
Site is a rippoff
Site is a rippoff…closed my account for no reason and stole my money….this site is horrible!
Fake profiles everywhere
Fake profiles everywhere, people supposedly looking at you and sending you smiles/hearts but that is just the system. What an absolute waste of time and money.
Fake pictures and fake profiles
Fake pictures and fake profiles. same picture used 2 or 3 members. Only get a response a couple of times then their profile disappears. Suck you in and ask for money for some emergency. Respondents dont match your set criteria either to young or to old. Ask you to go to other sites to meet.
This is highly unprofessional
This is highly unprofessional and shady.. I recommend you look elsewhere for a dating app or website.
Very happy
Meet someone and this was my last resort and wish to not continue due to finding a person my soulmate, very happy, moving forward to the future to be happy in life
Easy to navigate
It absolutely looks like a good dating site. Easy to navigate, nice and clean interface and it is mostly cheap . Looks like a nice alternative .
I had the opportunity to meet
I have to say that it was a very interesting experience as I had the opportunity to meet some real people with a very tiny percentage of weirdos and time wasters.
I enjoy it
The ladies I have talked to have been so polite and social. I enjoy it and I have a good memery.
Value for money
Easy to use, value for money. Some unwanted attention at times but there are also some very nice like minded people in here just looking for a new start. I think I've found my someone special.
I would highly recommend it!
We are getting married later this year. I'm so happy that I didn't give up on online dating before giving site a try. For obvious reasons, I would highly recommend it!
Dream come true for me
I have had a wonderful experience on this site and I have meet a wonderful Woman here and I am looking forward too spending the rest of my life with her! This lady I meet here a dream come true for me. Thank you
I am really grateful for her!
Everyone wonders if online dating works or not. And I can say that it really works. I have met so many amazing people here and we are such good friends now, and I have also found a long term girlfriend. She is far away now as she has to finish her education, but I am really grateful for her!
It is the absolute best place
It is a great site, because they probably have as many super hot brides as any site on the internet. It is the absolute best place to meet sexy ladies.
I also got some nice dates.
I used two websites for my dating research. This website is one of them. I spend a lot of time on the platform and I also got some nice dates.
God bless the founders of this site
God bless the founders of this site. You help to cross the borders and unite the hearts of the entire world. You wont be disappointed and will not be scammed. I judge from my personal good experience.
Scam site
Scam site in my opinion. Don't waste your time or money.
Do not join its not worth the effort.
Do not join its not worth the effort.
STAY AWAY
STAY AWAY. Preserve your emotions for something else.
Don't corrupt your life or your phone
A scammers delight. A hot spot for scam phishing. Rude, insulting people and kinky sex seekers. Don't corrupt your life or your phone
This site has turned into garbage.
This site has turned into garbage.
Dont use this site
Dont use this site if your after a single nice girl. Many of better ones out there
Don`t spend your money on Charmdate
Have a look at this website :https://www.datingcop.com/the-women-on-charmdate-com-are-earning-off-of-deceiving-you-review/ . So don`t spend your money on this site, you will loose it definitly!!!!